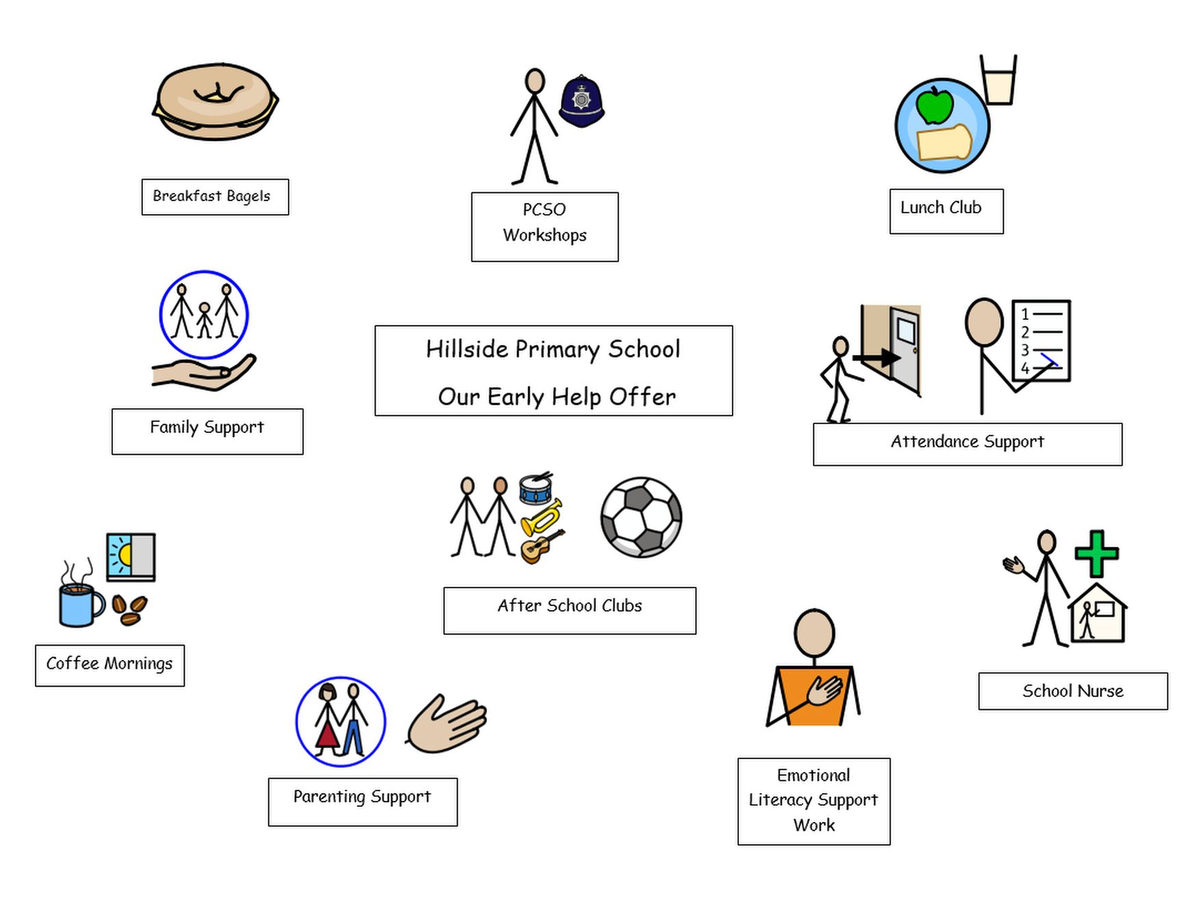 What is Early Help?
Information about Suffolk's approach to Early Help can be found on the following website:
https://suffolksp.org.uk/working-with-children-and-adults/children/early-help/

What will happen if I ask for early help?
The school has a range of support, depending on the needs expressed. It may be that we can deal with the problem within the school. We have an experienced Pastoral Team who can offer support to you and your children.
We may be able to make a referral to another agency or even suggest other options. All conversations will be confidential and information shared will only happen with your permission (exemptions to this are found in our safeguarding policy.
Hillside Primary School recognises that the most important think in any child's life is their family. Whoever is bringing up a child, whether a 'traditional' family. A grandparent, aunt, sister, brother, step-parent, carer, or other, we are here to help and support you all.
In school we are always happy to talk to parents about anything that is troubling them or their child – in or out of school. We encourage you to contact our Pastoral Team on 01473 601402 and we can arrange an appointment with our family support practitioners either by email, phone or in person.
Who is Early Help for?
You may well be managing ok generally but need support such as:
Disability or SEN (your child or another family member)
Problems with Housing
Employment worries
Financial worries
Relationship and family problems
Bereavement
Any health concerns for any family member
You are affected by another's use of drugs or alcohol
Worries about you child's emotional or physical wellbeing
... or anything that is causing you concern, to worry or you need support with
Common Assessment Framework (CAF)
The Common Assessment Framework is a way of working with families
who are struggling and puts their needs at the heart of decisions
made about how they help.
The CAF is used by people working for organisations across Suffolk
Including schools and children's centres.
The aim is for everyone including children, young people and
parents/carers to agree the first steps and types of support that will
help families work their way out of problems and resolve
difficulties.
If existing support is not sufficient and families are struggling they can
also request additional help by making a CAF referral.
More information about a CAF can be found on the following website:
https://www.suffolk.gov.uk/children-families-and-learning/common-assessment-framework-caf/common-assessment-framework-caf-information-for-families